At Wallace Quinn, we're used to meeting urgent and unexpected deadlines, but one member of staff recently took a call which really raised the stakes…
 A Wallace Quinn Trainee Solicitor had to abandon his work when his partner went into labour.
Jonathan Poole had only been in the office for a few hours when the call came from partner Naomi on 24 August.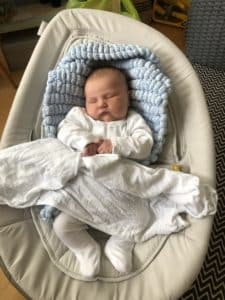 Jonathan grabbed his coat and rushed to collect Naomi and whisk her to hospital.  Baby Isla was in as much of a hurry has her dad, arriving at 1.30pm weighing a healthy 10lb 12oz.
Jonathan said,
"One minute I was preparing paperwork for a house purchase and the next I was in the car cursing traffic and hoping I would be on time.  I made it – just.   Naomi was amazing and I'm over the moon to meet Isla.'  
Jonathan and Naomi already have a son, Billy, who is two years older than his new baby sister.
Wallace Quinn Managing Director John Quinn said,
'As an excuse to leave work early, it is certainly one of the best ones I've heard in thirty years of business!  We're all delighted for Jonathan and Naomi and wish Isla a warm welcome to the world'.  
Isla and Naomi are now safely back at home and Jonathan has taken some paternity leave.  With a new-born and a toddler at home, we hope Jonathan and Naomi manage to get any sleep they can in the coming weeks! Oh, and happy 40th birthday Jonathan as well!